Well, yesterday was my middle daughter's 12th Bday so I am late in posting this. I had it done Fri night but she wanted to go to Carowinds yesterday so anyway... This little table was given to me from a friend probably about 15 years ago. I always kept a cloth on it to cover it up cuz it was just so ugly. Then I found all of you here on blogland and I thot I could make this ugly table pretty. Here is the before:
My 4 toddlers had done there own bit of damage to the top as well over the years.
And here is the after:
There are a few wrinkles in it but they're not too noticeable. I was afraid to rub them out cuz this is the second piece of paper I used cuz when I rubbed the wrinkles out the first time, it rubbed the top layer of the paper off so I had to take that off and redo it. I am happy enought with it to leave it alone.
I am just excited to have made it look better. Even my son said it was an improvement.
Thanks for looking! have a blessed day,
Karyl
I am linking to a party at
http://makingtheworldcuter.blogspot.com/2010/10/making-world-cuter-monday-oct-11.html
I am gonna try to post the button too y'all so here goes...
And on Tuesday I am linking to this party at sassysites.blogspot.com~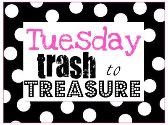 I am also linking to My Dear Trash's first linky lasting from
Oct 14-Oct 21 @